'WHALE SHARK!!!!' After hours of hopeful waiting, the shout finally came down from the spotter perched high atop the boat's upper deck. The search planes overhead had identified a massive shadow moving swiftly through the swirl and the chop of the Ningaloo Reef Marine Park, and the boat was quickly moving into position. We grabbed our snorkel masks and fins, hurriedly jamming them onto our faces and feet as the boat moved into the path of the advancing shadow…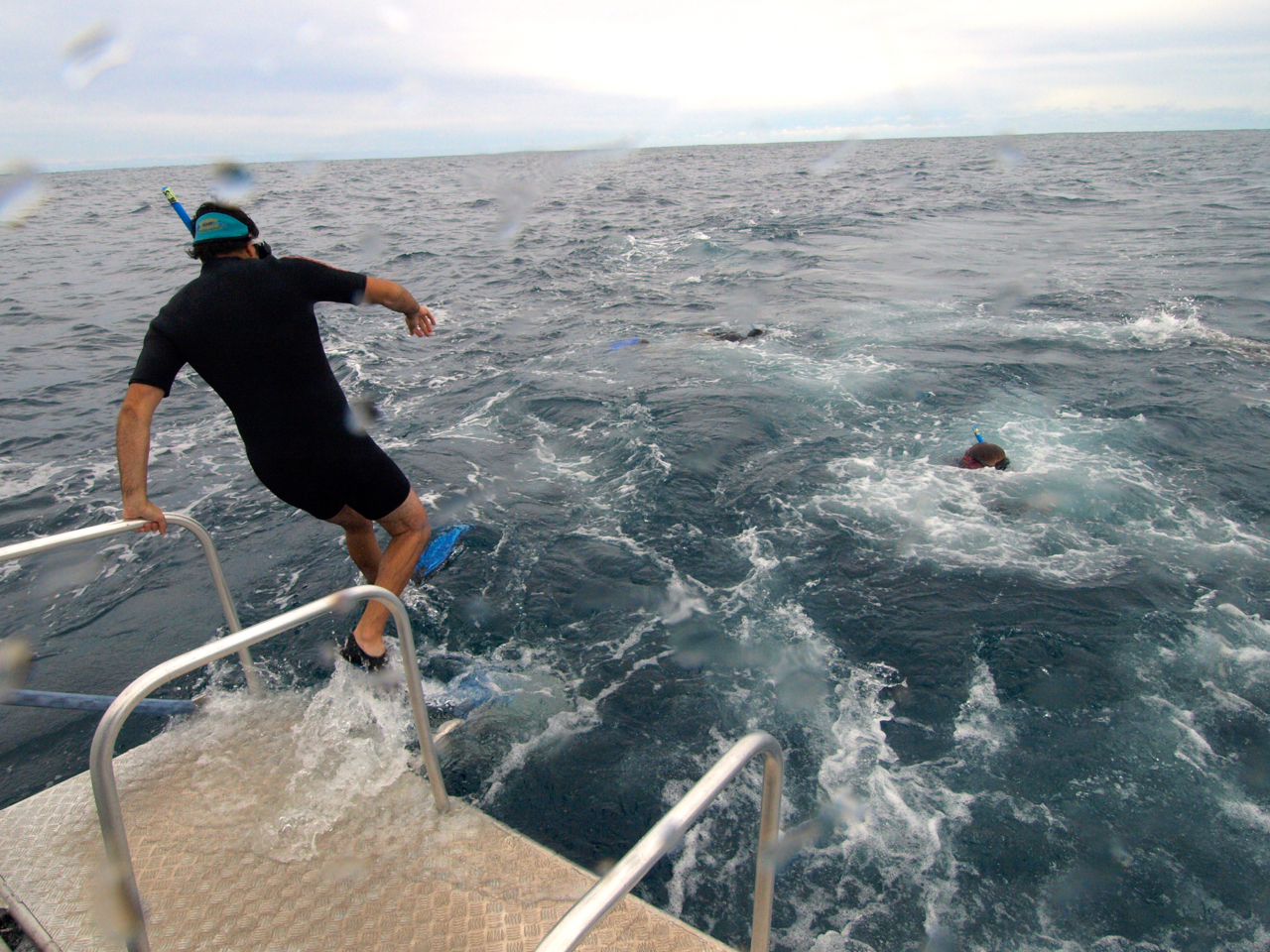 "Go! Go! GO!' was the order, and it was off the back of the boat and into the churning water, scrambling to get away from the boat, struggling to keep our snorkels above the waves…
Away from the chaos of the boat, it was calm, quiet- suspended in a depthless world of blue, bobbing at the surface of the sea, holding my breath and waiting… Waiting… I could HEAR my heart pounding… It was INTENSE.
And then, there it was- this MASSIVE leviathan, emerging out of the blue, bearing down on me at an alarming rate, it's gigantic mouth agape as it hunted the microscopic krill floating near the surface… It was coming right at me, without a hint of intention to change course… Honestly, It looked like it wanted to swallow ME! It.was.AWESOME!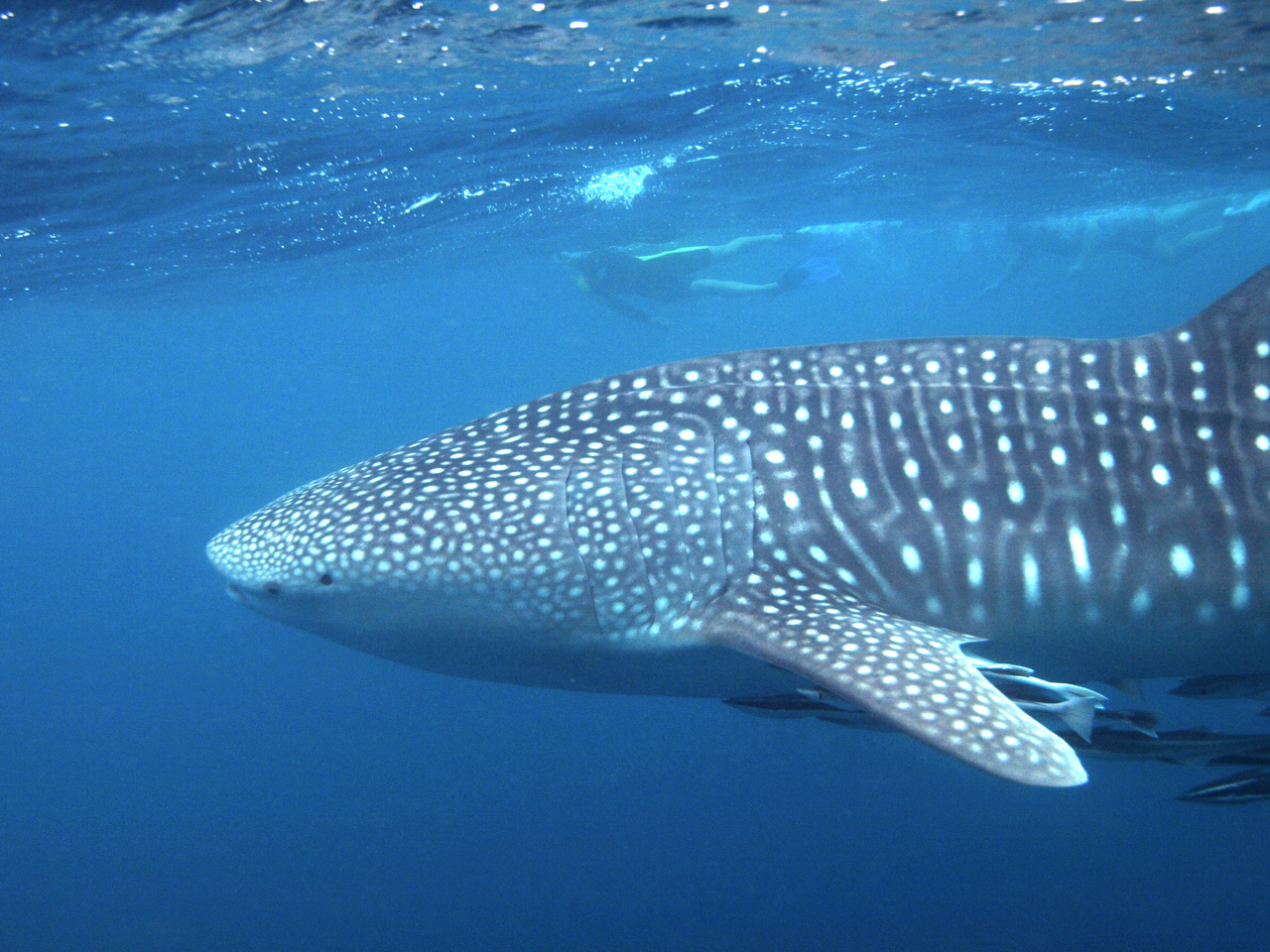 Oblivious to my presence, it was on me- past me- with one swoosh of its massive tail… Gasping for air, it was all I could do to try and keep up as it glided effortlessly through the water… 'KEEP SWIMMING!!!' came the shouts from the boat, as I sucked air through my snorkel and churned at the water with my fins, all the while marveling at the size, beauty, and grace of this enormous animal…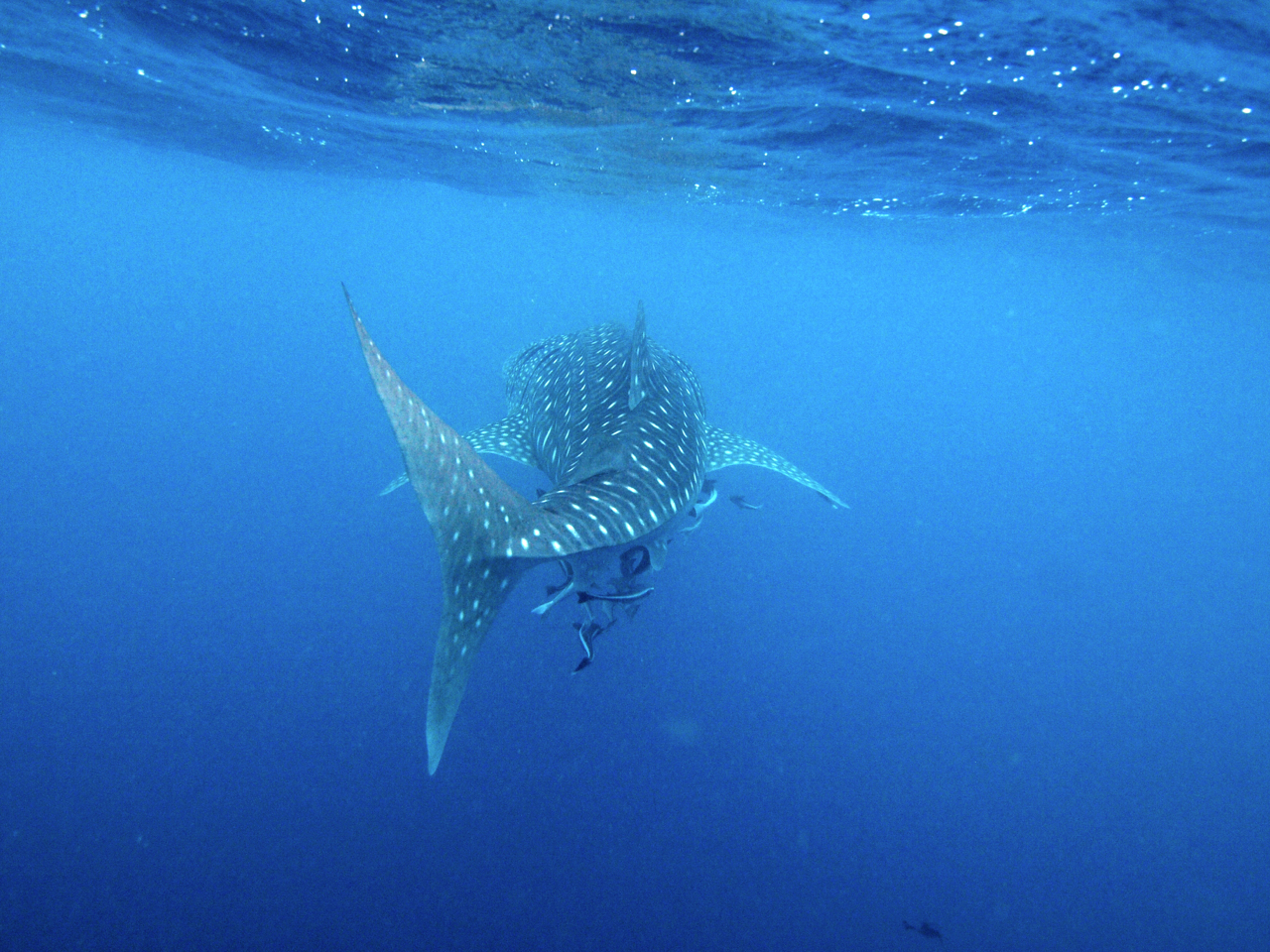 Quickly, it was beyond me, vanishing back into the blue as mysteriously as it had appeared… The boat circled back and plucked us from the sea, only to repeat the process again… This went on for an hour, providing 4 or 5 breath-taking/lung-busting opportunities to swim with the giant fish… It was exhausting; it was exciting; it was EXHILARATING… 'Swim with a whale shark- the largest fish in the sea'- another incredible adventure along the West Coast of Australia…
Getting There:
The Ningaloo Reef Marine Park is just off the coast of Western Australia, with the town of Exmouth serving as the local hub for snorkeling, diving, and whale shark excursion operators. Note that WA is HUGE, and Exmouth is pretty remote- 12+ hours driving from Perth, 13+ from Broome… You can get there by bus, but that takes even longer- though an overnight trip might be the best option. Flights from either location are right around 2 hours- you'll just need to keep an eye on rates, as they fluctuate with the peak tourism seasons… Honestly, the best way to get to Exmouth is to just do a 3-month road trip along the west coast- there's so much to see and do all along the coast, and often times, you'll have it all to yourself… There's a reason Australian's who know say 'The West is best…' It's true.
Western Australia- a place where it's almost too easy to find the adventure... GO THERE!
To start planning YOUR adventure through Australia, click HERE......