The small hamlet of El Chaltén is quite simply an outdoor lover's heaven on earth. Well-marked trails and fantastic camping areas combine with indescribable Andean scenery and a mountain-town feel to create a Patagonian vibe unlike anywhere else in the country. On a clear day, visitors are greeted by the magnificent Cerro Fitz Roy as they roll into town, the granite monolith towering over the local landscape. Hiking, camping, rock climbing, rafting, horseback riding, kayaking, ice climbing- just a few of the outdoor activities offered in El Chaltén. Pack a daypack and go for the hike of your life; pack an overnight bag and camp under the stars in the shadow of Fitz Roy; pack your camera and find a seat at any cafe in town (They ALL have million-dollar views)- no matter what you get up to, if your heart is beating, you're sure to LOVE El Chaltén. This IS Patagonia...
Getting There
Most backpackers arrive in El Chaltén by bus from El Calafate. It is a short-yet-spectacular 3-hour ride- all on paved roads- and there are a few departures daily. Make sure to check at the bus terminal for times and prices.
Trips out of El Chaltén can be a bit more tricky. At the time of BPU's visit, there were two companies that ran northbound buses on alternating days (One runs M/W/F, the other runs on odd numbered days). The most popular destinations for those headed north are El Bolsón (approximately 25 hours) and San Carlos de Bariloche (27 hours), reached via Route 40- Argentina's version of Route 66. Yes, it is a LONG slog on a bus, but since the passengers are almost 100% tourists, they play movies in English and make frequent stops for food/drinks. The scenery along the route is a distraction in itself.
Things to do in El Chaltén
HIKE- The Loma del Pliegue Tumbado trail is SPECATCULAR- 360-degree views of the surrounding area, which will give you a great lay of the land for any other hikes you may want to take on during your stay in El Chaltén. Make sure you do it on a CLEAR day, and pack some wind gear for the summit- it gets pretty breezy up there... The trail starts from the Visitors Center at the front of town.
HIKE- The Lago de los Tres trek takes you right to the foot of Cerro Fitz Roy. It starts with a meandering trail through the forest and finishes with a STEEP climb up to the lake. Once you've managed the climb, there is an amazing alpine lake off to the left, complete with a crumbling glacier hurling chunks down into it. Pretty sweet. Pack warm clothes for the top- it is cold and WINDY up there!
HIKE- The Lago Torre trek is a great hike through a beautiful valley. It ends at a lake at the foot of Cerro Torre, with a MASSIVE glacier pouring down into the lake at the far end. There is a path to hike along the ridge on the right side of the lake- you can get pretty close to the glacier, and the views are amazing. Pack your wind gear.
CAMP- There are several campgrounds strewn throughout the hiking trails that make their way through the Glaciers National Park around El Chaltén. Pick up a map from the Visitors Center, ask the park rangers any questions you might have, and plan your camping trip.
CLIMB- There are world-class walls all around El Chaltén, the challenge is often getting to them. Check in at the Visitors Center for up-to-date weather conditions and climbing information, and then get out amongst it. Whether you are a beginner or an expert, there's a face with your name on it in El Chaltén.
EAT- El Chaltén is packed with cozy little cafes and eateries- there's even a microbrewery! The fires are warm, the service is friendly, and the food is delicious.
Insider Tips
Grocery shopping is a bit of an adventure in El Chaltén- there are only two 'markets' in town, and they're only sporadically supplied from the outside. Cheese is often at a premium, so don't be afraid to stock up when buying supplies for your trail lunches.
Along the same lines, dining out can be pretty pricey in El Chaltén- if you can get a few people to go in on groceries for a group dinner, you'll save some $$$ and make some new friends in the process...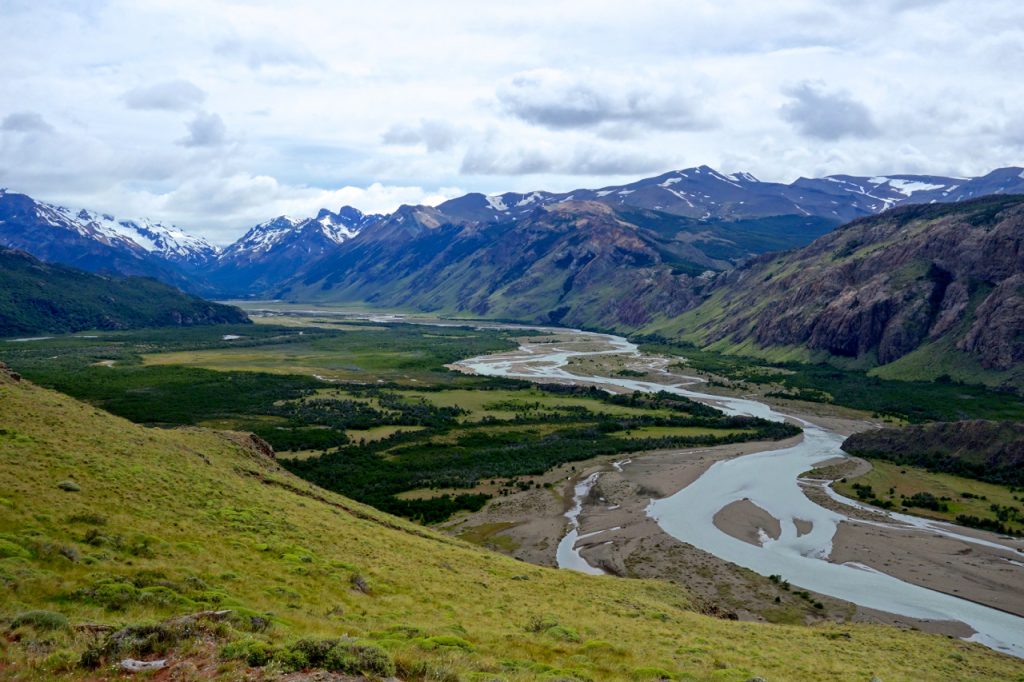 Wear/pack layers when you set out on the trails around El Chaltén. Weather conditions can change in a hurry, and you don't want to get caught unprepared for something hours away from town. Also, you're sure to work up a sweat when climbing up the Tumbado or Lago de los Tres- a warm, dry layer to put on once you've gotten to the summit can make all the difference.
They have EXCELLENT trail maps at the Visitors Center- even if you're a hard-core DIY person, these trail maps are worth stopping in for.
If you don't have your own gear but still want to camp for a few days, there are several outfitters in town that rent all the equipment you'll need. Check around to compare prices and inspect the gear, and then go for it.