A happening tourist town settled on the shores of the gorgeous Lago Nahuel Huapi, San Carlos de Bariloche ('Bariloche' for short...) is perhaps the most popular destination in all of Argentina's Lakes District. While the town itself is swarming with chocolate shops, cafes, restaurants, and touristy boutiques, the real fun is to be found in the hills and parks surrounding the city. Hit the slopes, rent a bike, take on the trails, go for a swim... Winter, Spring, Summer, and Fall- there is ALWAYS something on in Bariloche.
Getting There
Bariloche is located in southern Argentina, and is a frequent stop for those traveling through Patagonia. It is a long bus ride south to/from from El Calafate/El Chaltén (27+ hours), but the scenery along Route 40 is spectacular, and there are a few stops along the way to break up the journey. Heading north, it is about 14 hours to Mendoza, the next major stop along the Backpacker's Trail in Argentina. Bariloche is also a popular place to cross over to/from Chile- a 4-hour bus ride to San Martin de los Andes gets you to the border, and then you can head to places like Pucón on the Chilean side.
Bariloche is popular enough that there ares several daily flights in and out of the airport (BRC). Check with major carriers for schedules and pricing.
Things to do in Bariloche
HIKE- Both the Parque Nahuel Huapi and the Parque Municipal Llao Llao have countless hiking trails that inevitably end with mind-blowing views of the lake and surrounding mountains. There are single-day and multi-day hikes available, with camping options as well- check in town for weather conditions and trail maps.
BIKE- The 25Km loop through Parque Llao Llao is a popular day-trip just a short bus ride outside of Bariloche. An easy ride, several short side hikes, one beautiful view after another, and a few surprises along the way (Can you say 'microbreweries'?)- what's not to like? There are a couple of bike rental agencies out in the park- call ahead to reserve a ride.
KAYAK- kayaking on the lake is another popular way to spend the day. You can sign up for an organized tour- transportation and lunch included- or pack your own picnic and rent by the hour, free to go where you want.
SKI- If you're in Bariloche during the winter season (June-Sept), chances are you're keen to hit the slopes. There are several ski/snowboard rental shops in town, and various ski fields in the area to check out. Even if you've never been on the snow before- a day on the slopes in Bariloche is an unforgettable experience.
RAFT- The rivers RAGE around Bariloche, and those brave enough to take them on will not be disappointed. Rapids range from Class III all the way to V+, and there is always something to get the adrenaline pumping, even for the most seasoned rafter.
FISH- with all the rivers running around Bariloche, many consider it one of the best spots for fishing in all of South America. Ask at your hostel for reputable companies and guides in town, and throw a line in. Who knows- you might catch your own dinner!
EAT- Since Bariloche IS such a touristy spot, there is a plethora of eating options throughout town. Quaint little cafes, Mom&Pop pubs, trendy restaurants, and the ever-popular 'parillas'- no matter what your taste (or budget) may be, you're sure to find something delicious in Bariloche.
Insider Tips
Take several layers when setting out on the trails around Bariloche- the weather can change in a matter of minutes, and you don't want to get caught out in the cold/wind/rain/snow unprepared.
If you're keen on the bike ride through Parque Llao Llao, give yourself most of the day to complete it. It's an easy ride, and you could do the loop in an hour or two, but there is SO much to do along the way, you don't want to have to rush it. Besides, getting an early start leaves more time for Dulce de Leche-covered waffles and local brews along the way= WIN.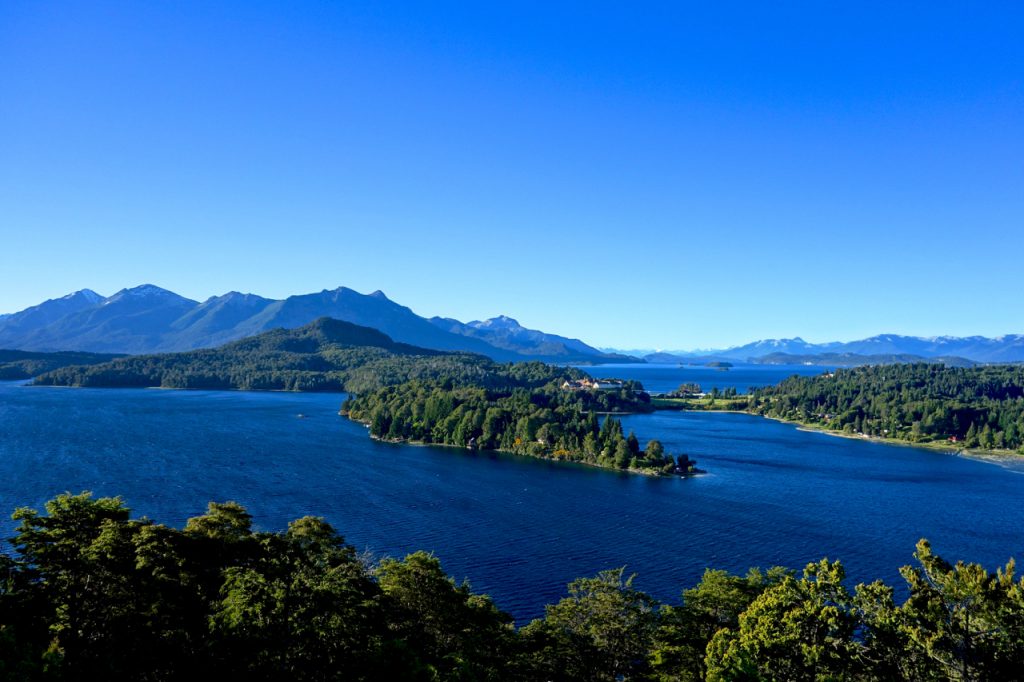 While there are frequent buses to/from the local parks and ski fields, you can easily hitch a ride as well. Locals are friendly and know that the town exists for tourism, and are usually happy to give you a lift. As always, use common sense, and don't hitch alone.
When you're riding around in Parque Llao Llao, you'll ride right past the Hotel Llao Llao- the most famous hotel in all of Argentina. If you're quick, you can get a great view of the hotel and the grounds from the parking lot, and if you've got some wit, you might even be able to talk your way into the main lobby. Lifestyles of the Argentinean Rich & Famous...
Typically here at BPU, we try not to recommend specific hostels/restaurants/agencies/etc.- you never know when a place is going to close, change names, etc.- but the Penthouse 1004 Hostel in Bariloche is SPECTACULAR. A cozy complex on the 10th floor of an apartment building 2 blocks from the lake, this hostel has it all- great kitchen, expansive dining and common areas, clean bathrooms, and the views, oh, the views... BOOK AHEAD!!!